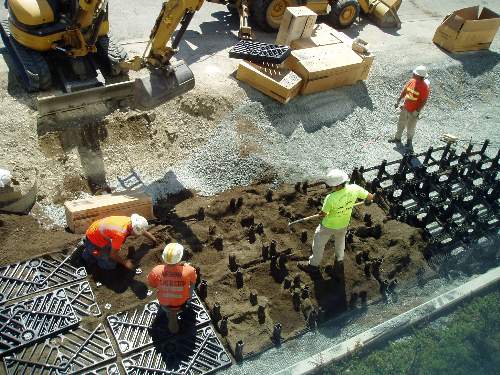 I meant to put this post together for the end of December (whoops) but it slipped my mind. Still, I find it interesting to look back on the articles readers have paid the most attention to regardless of the time of year. Here, in order, are the most read entries from this blog for 2010:
1. Most Creative Query: ASCII Tree Art
You have to love a homeowner harnesses the power of the qwerty keyboard to literally illustrate a landscaping problem.
2. How Deep Do Tree Roots Grow?
Straight from our expert partners, James Urban and Peter MacDonagh — mythbusting of the root variety.
3. Tree & Stormwater Streetscape Installation in Shoreline, WA
Thanks to Otak, this installation gave us probably the nicest aerial view of a Silva Cell installation that we've ever had. More importantly, ahem, this installation utilized Silva Cells to extend an above-ground streetscape rain garden underneath paving.
4. Suspended Pavement at the Bartlett Tree Lab, Year 6
Six years of outperforming structural soil in this independent study of various growing mediums makes us feel all warm and tingly inside.
5. Photos from Connecting Derby Silva Cell Installation
We can't wait to get some springtime photos of this car park installation in Derby, UK.