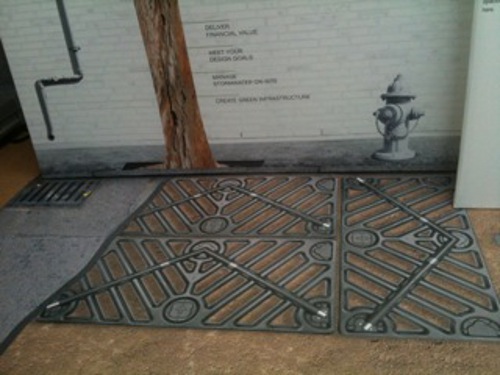 We'll be exhibiting at two tradeshows this month, and speaking at one of them!
(That's our spiffy new booth and flooring pictured above.)
May 12 – May 14, 2011
BCSLA Annual Conference
Pinnacle Hotel at the Pier
138 Victory Ship Way, North Vancouver, BC
Booth # 22
May 20, 2011
2011 Desert Horticulture Conference
Tucson Convention Center, Tucson, AZ
Both Al Key, Vice President of Sales, and L. Peter MacDonagh (RLA, ISA), Director of Science + Design, will be attending and speaking at this show.
Peter's session topic is…
The Urban Forest is Broken: Solutions for a Pending Crisis
This one‐hour session highlights how large soil volumes under pavement for Urban Forests are currently being installed around the world. The integration of these green utilities with uncompacted soils, trees and stormwater into our urban areas substantially improves their design sustainability. These are Urban Forest that fulfills their promise of alleviating some of our most pressing ecological challenges – including air and water quality, climate change, flooding and erosion from daily rainfall events. Research tree projects 7 and 25 years old show the superior performance of suspended pavement with loam soil for these dangers. MARQ2, transit streets in Minneapolis, the 2010 Winter Olympic Village in Vancouver, Canada and Waterfront Toronto case studies will be presented showing Urban Forests at scale.