This article tells the story in words and pictures about the evolution of a sidewalk on a single block in San Francisco. The 20th Street Biophilic Landscape is on 20th Street between Alabama and Florida Streets.
This block is a flat area that was on the edge of or part of a tidal marsh. In the early years of San Francisco's development, this location was likely considered "wasteland" that needed to be filled in and "improved." The photo below was taken a few blocks away, showing how much of the street landscape looked even into the late twentieth century.
An old proverb says, "The best time to plant a tree was 20 years ago." Fortunately, someone took that to heart and planted trees with Friends of the Urban Forest on 20th Street back in 1987.  The owner who had them planted and watered them in the early years is lost in the mists of time. These glossy privets (Ligustrum lucidum) may not be the first choice for a street tree species today, but they are survivors. They grew for decades in compacted, oxygen-poor soil with just a little square open to the rain. As the property fell into disuse, these trees remained green during years of neglect.
The next image shows the mature trees in front of the vacant building. The trees formed a green canopy, but there is still a lot of concrete. Before 2006, if you wanted a sidewalk garden in San Francisco, you faced an $800 permit fee and a discouraging, Byzantine permit process.
We can credit local resident and landscape architect Jane Martin as the godmother of sidewalk landscaping in San Francisco. After a 2004 storm caused flooding and sewage backup, Jane was able to convince the City that sidewalk gardens weren't just beautiful – they absorbed excess rainwater, preventing property damage and public health hazards. She helped City officials hammer out a streamlined, less expensive permit process with easy-to-understand guidelines in 2006.
In 2012, David White of the Ne Timeas Restaurant Group approached Jane about opening up the sidewalk on 20th Street, outside a new restaurant/bar complex on the block. Southern Exposure Gallery, which had anchored the western end of the block, since 2009, agreed to collaborate, so the garden would extend the entire north side of 20th Street and wrap around onto both Alabama and Florida Streets.  The 20th Street Garden was planted on over 2 days in October, 2012 by 60 volunteers. The plant list contains climate-adapted and native plants that provide forage and habitat for local insects and birds. The design allows the garden to capture 100% of the rainwater falling on its 5000 square feet of open space and permeable pavers.
All this beautiful design and planning would come to naught without upkeep. Happily, the Ne Timeas Restaurant Group's commitment is ongoing. Their paid staff waters the garden, and a professional gardener (yours truly) comes once a month for pruning, weeding, cleanup and plant care. Because I know Jane and understand her original design intent, I can make compatible maintenance choices – leaving seedheads on for the birds rather than "deadheading" spent flowers, filling empty spots with plants from the original plant list.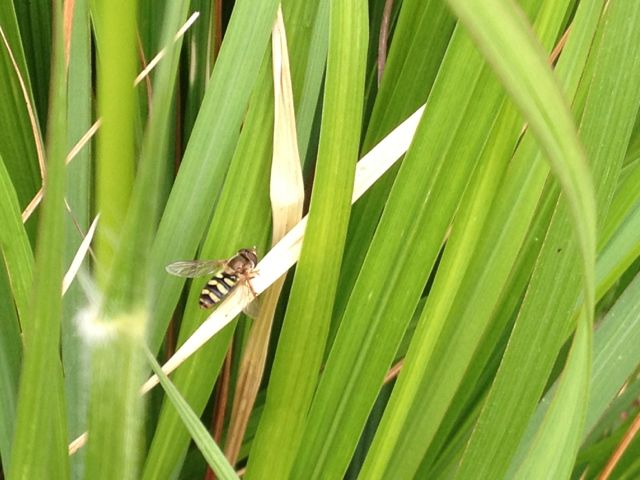 The official name of this garden is the 20th Street Biophilic Landscape. Biophilia, meaning "love of life," also represents humankind's desire to be connected to all living things.  Our primitive brains recognized that a biologically diverse landscape – plenty of plants and animals – meant abundant sources of food. Although fewer of us now hunt and gather, the link between biodiversity and human health remains. Most of us still prefer to live and do business close to parks, gardens, trees and open spaces. May there be more like the 20th Street garden in your community.
Ellyn Shea is a consultant, gardener and garden educator in San Francisco.
Top photo: 20th Street sidewalk garden between Alabama and Florida Streets in San Francisco in 2013