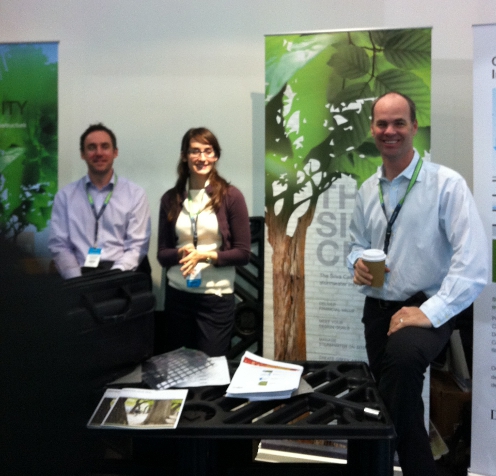 Busy, but great, week (the last one, that is) at EcoBuild. The show, held at the ExCel Centre in London, was an amazing hustle and bustle of companies, organizations, and professionals, all in the business of trying to provide better design and construction solutions for our enviornment — everything from greywater reuse to recycled PET bottle "timber" substitutes to bat mapping (I have a particular softness for that last one).
Our stand was located in the Cityscape section of the show hall, and particularly because the show was so large — I believe there were around 40,000 visitors — it was great to be part of a thematic grouping within the hall. The opportunity to cross-polinate ideas and references with other companies is something we really look forward to at these events, and the general category sections seemed to help focus the show from both an exhibitor and an attendee standpoint. We had a lot of really excellent conversations with various architects, landscape architects, engineers, and more. The level of knowledge was extremely high, and the international draw of the show — we had visitors from Bahrain, Israel, Poland, and Peru, just to name the ones that come to the top of my head first — was very impressive.
Our UK partners, Geosynthetics, were there with us. This was a particular treat for me and Graham, and we don't have many opportunities to spend time with them face to face. Martin Weaver, a former tree officer who is now a Product Manager with Geoysnthetics, delivered a great seminar with the Trees and Design Action Group (TDAG) to a packed group at the Cityscape Pavilion. The audience, obviously an educated bunch, asked a lot of insightful questions about some of the challenges trees are currently facing in the urban environment. Martin Gammie, the Director of Consulting with Trees as well as the Forestry & Countryside Manager with the South Oxfordshire District Council, also spoke on a panel with other tree experts discussing "Grey to Green" city tree planting initiatives and technologies. Look out for more from both Martins on this blog in the near future.
It was a long week and we have an even longer list of names to people to follow up with. But then, that's when the fun really begins.
A special thanks to Steve, Chris, Roy, Tracy, Martin, Jonathan, Rachel & Dale, for all of their help!