The Pennsylvania Horticultural Society, in collaboration with several partners, recently released PhillyTreeMap, a crowd-sourced tree census project in the 13-county, 3-state Philadelphia region. I interviewed Casey Combs, ISA Certified Municipal Arborist and the TreeVitalize Senior Coordinator with Pennsylvania Horicultural Society, about PhillyTreeMap's creation, how it works, and possible plans for its future.
Deep Root Partners [DRP]: The Philly TreeMap is a product of coordination between several different agencies. What was the process of collaboration like? Was it difficult to reach consensus over this project, and do the different stakeholders have different hopes for the outcome?
Casey Combs [CC]:As far as collaborations go, this was one of the best I've worked on. All partners had similar goals, the only difference was what regions we were interested in having the map cover. Naturally, the City of Philadelphia only really cares about managing the data from inside the city whereas Pennsylvania Horticultural Society (PHS) and the Delaware Valley Regional Planning Commission (DVRPC) were interested in collecting data from regions outside of Philadelphia.
DRP: How did the vision for the urban forest map develop? Did your goals for this project change as it underwent development?
CC: Azavea, the software company that built PhillyTreeMap, received a USDA Small Business Innovation Research (SBIR) grant to investigate tree inventory and mapping software. With feedback and guidance from the Pennsylvania Horticultural Society, Philadelphia Parks & Recreation, the Delaware Valley Regional Planning Commission (DVRPC) and other partners, the initial idea for PhillyTreeMap grew and changed to meet the needs of the urban forest community in Philadelphia while still addressing the goals of the grant. The site incorporates open source code from the Urban Forest Map project which also influenced elements of the map. While our initial goal was to research and create a prototype of an urban forest map, the partners on the project, in the end, felt PhillyTreeMap was ready to be released for public use.
DRP: Do you plan to proactively share/publish the information gathered from the tree census? If so, how? How do you expect it to inform street tree policy or on-site stormwater management in Philadelphia?
CC: For right now, we are just reporting on this information internally. It is available to anyone who asks, but there are no immediate plans to publish information. I will be giving a presentation in Orlando at the National Arbor Day Foundation Conference in November where I will be sharing data and "best lessons" from the spring/summer trial period. We are hoping that with the information input we can start prioritizing outreach efforts to increase tree canopy and stewardship in areas where it is needed most.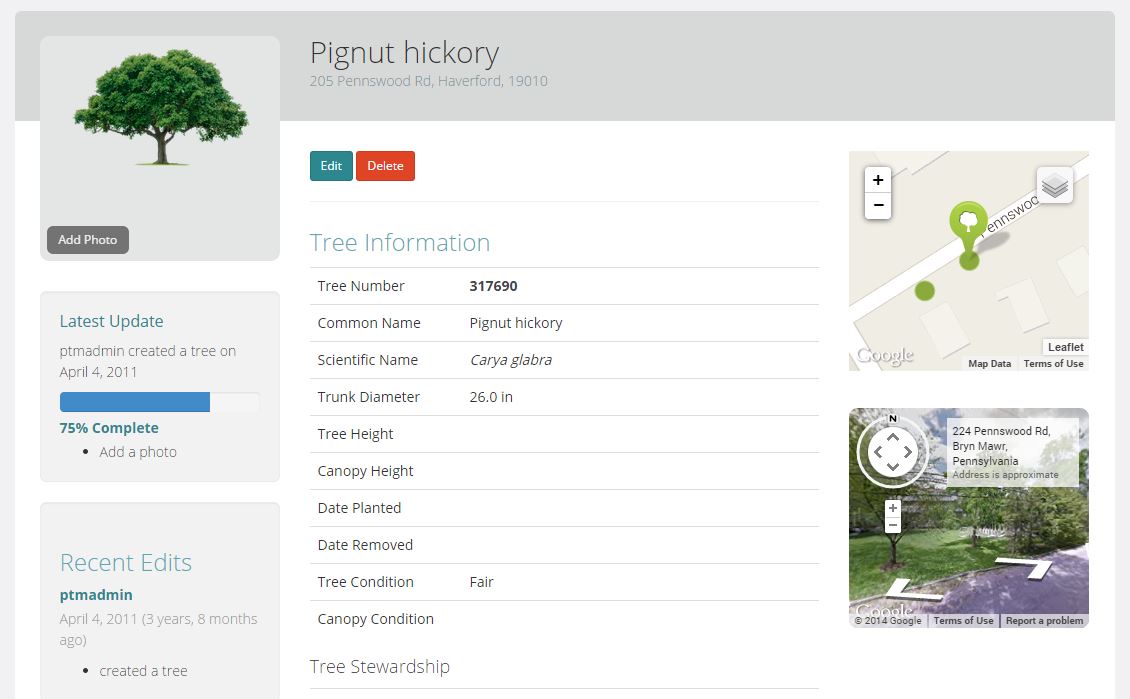 DRP: Will the Philly TreeMap ever be "done," or do you expect this to be an ongoing project?
CC: The USDA SBIR grant that funded the development of PhillyTreeMap has been completed. Azavea with the support of the project partners is currently pursuing other funding opportunities to expand the site with new features and research. The site will remain live for the present, and we hope that people continue to enter trees, edit tree information, upload photos, and help us create a more complete and current inventory of trees in the greater Philadelphia region. The site is also linked to the Plant One Million campaign and we hope people will enter their trees on the Plant One Million site and then add more details about the trees on PhillyTreeMap.
DRP: What policy changes would you most like to see the urban forest map data contribute to?
CC: As with most environmental programs we are always limited by funding. We hope that this fun and informative tool exposes new people to trees and builds new excitement that can translate to new donations and funding. Down the road it would also be interesting to try and have citizens entering service requests (i.e. pruning, dead trees, request for planting) straight through the website.
DRP: Are users contributing to the Philly TreeMap the way you hoped they would? How do you try to make people aware of this project and motivate them to contribute?
CC: So far it is working out wonderfully. The programmers added a nice feature with reputation points to prevent "cyber-vandalism." Any individual can register for a free PhillyTreeMap account and add trees to the database or edit existing tree information. Public users gain reputation points by contributing to the PhillyTreeMap database. After reaching 1,000 reputation points, users may edit additional data fields related to the height and status of the tree. Users with this higher reputation level may also review public edits and provide positive (thumbs-up), neutral, or negative (thumbs-down) responses to the edit. Such actions affect the public user's reputation (i.e. if a more experienced user likes your edit, you get additional reputation points).
DRP: What, if anything, surprised you about this process? Has there been anything unexpected about the way the map is being used?
CC: We were contacted by a Science Charter school in Philly who will be using the map as a senior project. Basically, doing a survey of the trees surrounding their school's neighborhood.
DRP: Is there anything else you want to tell me that I haven't asked?
CC: PhillyTreeMap is built using open source code contributed by the Urban Forest Map project in San Francisco. We are thankful for their contribution and excited to build on their initial work.
Thanks, Casey!